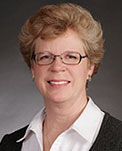 When I first discovered Chiropractic, I just wanted my back pain to go away; I wasn't thinking about natural healing…
St Louis Chiropractor, Dr. Linda Pecaut
All it took was a twist while trying to reach for something behind me – something I had done many times before without any trouble. I felt the strangest pulling then a "catch" and I could barely move. The first chiropractic adjustment provided some relief and a couple of adjustments later, the pain was entirely gone!
Of course, the story didn't begin with that twist, it began with several months of carrying a newborn and putting his pumpkin seat in the back of a two-door car. I never paid attention to my posture, or how I carried things – nothing ever seemed to bother me. I later learned it was those poor repeated motions that took their toll over time – that twist was just the last straw!
Like many new moms I started paying more attention to my body when I became pregnant. I began to realize how everything I put into or did to my body affected my baby (of course, those habits affected my body long before I got pregnant, but I was young and invincible and didn't think about that until I was responsible for someone else!). When I was first introduced to holistic health it really resonated with me. Addressing the mental, emotional, physical and spiritual aspects of the individual – the whole person – seemed obvious; as does addressing lifestyle issues – what people eat and drink, how they move, and what they think. As a Chiropractor, I believe the body is self-healing and self-regulating; and the Chiropractic adjustment removes the interference to the Nervous System which allows its full expression.
ChiroWholeness was created so you could take a little time out for YOU…it's a place where you can take a deep breath, improve your state of mind, and get and stay well. You'll obtain honest information, and receive holistic, natural healing. The comfortable, homey atmosphere is designed to help you relax as you soon as you walk through the door.
I want to help people get back to the basics of true health. Eating better, drinking plenty of water, exercising (or, at least, moving around), and a positive mental attitude. Getting adjusted regularly will keep the nervous system functioning properly contributing to whole health.

It is wonderful to see people get and stay healthy! Through gentle adjustments to the spine and extremities, interference to the nervous system is removed and life is restored to the body. It's always gratifying to hear how healing has occurred with regular adjustments often beyond neck and pain: calming an overactive bladder; relieving sinus pressure; improving breathing; relieving and often eliminating headaches (including migraines!); eliminating numbness/tingling in the arms; improving mobility (in the neck and back, shoulders, wrists, hands/fingers, hips, knees and ankles); and much more. I am honored to share the power of Chiropractic with others. And, I love sharing what I am continually learning about natural healing – physically, mentally and emotionally.
A little about me…
I'm originally from the San Francisco Bay Area in California. I moved back to my 'roots' in the Midwest while in my early twenties. My husband, Joe, was born and raised in St. Louis Hills (and for those natives who just have to know – he went to CBC for high school!).
I completed my undergraduate work at the University of the Pacific in Stockton, California where I received a B.S. in Public Administration and a bilingual (Spanish/English) Certificate in Inter-American Studies. I received a B.S. in Human Biology from Logan College of Chiropractic in St. Louis, Missouri while obtaining my Doctorate in Chiropractic.
My husband, Joe, and I have been married for twenty-nine years and have a wonderful son, Jacob. Joe teaches Religion at Cardinal Ritter College Prep High School and Jacob graduated from Augustana College in Rock Island, Illinois with a degree in Theater and Business/Marketing and minors in Entrepreneurship and Film. We have two rescue dogs, Eve and Moses who keep us busy. We have family and friends in all parts of the world and love to travel whenever we get a chance.
I get adjusted every week or so to keep me feeling good and moving well. It keeps my spine moving so I stop most aches and pains before they start! It also strengthens my immune system so I have natural protection from most colds and flu. My family gets adjusted regularly, too. And Joe, who did all the rehabbing at Chiro Wholeness (when he wasn't teaching, golfing or playing Vintage Baseball!) often has something that needs attention!
It's not always easy to eat as well as we would like. It's wonderful to see the healthier options popping up around St. Louis! I've learned it's not about making drastic changes in your diet, it's about eating a little better every day. One area I really struggle with is making the time to exercise. Moving is critical to staying healthy. I walk and stretch whenever possible. And, I feel my best when I stick to a regular and varied routine – cardio (walking or biking for me), resistance, and light weights. Am I the perfect role model or poster child for the Chiropractic lifestyle? Absolutely not! Though I do a little bit each day to make changes in my life.
I believe one of the most critical components of health is to pay attention to your thoughts!
You are what you think! Learning how to direct my thoughts and understanding the power of my mind has become another passion of mine. Thoughts and emotions have a direct impact on your health. If you believe you can heal, you will. As you focus on healing instead of dis-ease, you will recognize the healthier options around you and you will meet people to help you on your journey. I am forever learning and sharing what I learn with those around me.
I practice Concentration exercises to help me to still my mind for greater focus. As I slow my mind down to recognize my thoughts, I'm able to choose positive and affirming thoughts while allowing fear and doubt to pass on by. Regular meditation helps me practice receptivity and connect with God, the Creator. I'm choosing to become a human BE-ing instead of a Human Do-ing!
Please let us know how we can best serve your needs? Give us a call today and we can help you take your first step towards better health so you and your family can…Be Whole!!